With electoral expert Pierre Martin, Mediapart revisits the many paradoxes that marked the federal elections of October 21. If the Liberal minority government is successful, the length of the term is uncertain.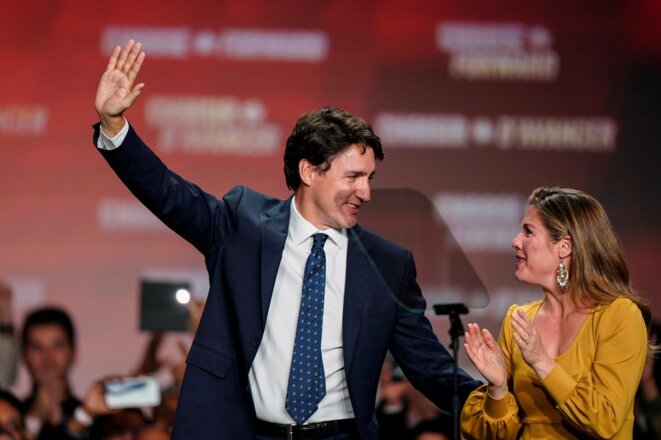 For a lay observer of Canadian political life, the situation is confusing. Liberal Justin Trudeau is taking a second term, while his party is (slightly) ahead of his Conservative rival, Andrew Scheer. In the House of Commons, thirty-six seats separate the two parties neck and neck in terms of votes won, giving the outgoing Prime Minister the opportunity to lead a minority government.
A specialist in electoral developments in Canada, to which he devoted a book and analyses to each election, Pierre Martin identified other paradoxes that he gave keys to resolving in an interview with Mediapart. During his decoding, he highlighted the crucial nature of the controversy surrounding a law on the secular nature of the state in Quebec. In this French-speaking province, with its significant demographic weight, the subject cost the left, represented by Jagmeet Singh's New Democratic Party (NDP), many votes.
In Canada, the vote on Monday, October 21, pitted several political forces against each other in a federal state with ten provinces and three territories. Before going into detail, what are the most striking lessons for you from these elections?
Pierre Martin: I will summarize by saying that it was not Trudeau who won this election, but Scheer, his Conservative competitor, who lost it. We will come back to this point, but, for the sake of completeness, I would like to point out five paradoxes that marked the election, which should become clearer as we move forward in our discussion.
First, the Liberals won in seats while they were defeated in votes. Second, the Conservatives have made progress in terms of votes and seats, but they have failed. Third, New Democrats ran a brilliant campaign but recorded setbacks, both in votes and seats, that take them back 15 years. Fourthly, the Greens are making progress in terms of votes and seats, but are not doing any better than their performance in 2008, despite a favorable economic climate. Fifth, the Bloc Québécois, a sovereignist force at the federal level, can congratulate itself on its progress but cannot do anything about it, since it does not claim to be in power across Canada[the party only runs candidates in Quebec federal ridings].
Let's go back to Trudeau's Trompe-l'oeil victory. It took all the effect of the voting system for such a small difference in votes (33.1% for the Liberals versus 34.1% for the Conservatives) to turn into such a large difference in seats (157 versus 121)…
Yes, in this first-past-the-post system, the Conservatives suffered from too much concentration of their votes in western central Canada, particularly in the provinces of Alberta and Saskatchewan. We are dealing here with a reversal mechanism that is quite possible with this voting system, even though it is called "majority" voting, but which does not guarantee that the winning party will also be the winner in seats. With these rules, it is indeed more efficient to have only a slight advantage in many ridings, only a very strong advance in only a few.
This is only the third time this reversal has occurred in Canada, and it is the first time that the Conservatives have been the victims (in 1957 and 1979, it was the Liberals who suffered). However, it should be noted that no one is protesting. Politicians have understood that they are ultimately fighting more for seats than for the votes of voters since it is the number of seats that determines who holds power.
Beyond this handicap, what other reasons explain why the Conservatives have not succeeded in bringing about a changeover?
Andrew Scheer has proven to be a bad leader. Six months before the election, polls gave his party a significant advantage. Scheer, whose arrival at the head of the Conservatives was recent, became known to the large mass of voters as the campaign progressed. However, its image has continued to deteriorate. He was aggressive in his criticism of Trudeau without succeeding in articulating it with a positive, constructive vision for the country. From this point of view, lowering taxes was a very limited time horizon, "small arm", one might say.
On the other hand, Scheer appeared unable to manage the contradictions within his political family. These, which relate in particular to energy issues, have had an impact on his party's image in Quebec, where he lost two seats. In that province, the public is opposed to a pipeline project, which is supposed to cross all of Canada to the Atlantic and is being promoted by the leaders of Alberta, a Conservative stronghold. They form a very hard wing and a real oil lobby within the Canadian right. Jason Kenney, Alberta's head of government, even threatens to stop paying equalization between provinces if he does not win – an extremist, potentially unconstitutional position.
Add to that cocktail the fact that Ontario's new Conservative government, which still had two years to prove itself, has become very unpopular because of cuts to social programs. In that province, 121 seats were at stake. The Conservatives only got 36
That being said, as you pointed out, the Liberals did back down.
Yes, mainly in English-speaking Canada, where two controversies served Trudeau: one about his practice of blackface in his youth, the other about his intervention to avoid a lawsuit against SNC-Lavalin, a construction company with 9,000 jobs in Quebec (which could, on the contrary, have been credited to him in that province).
More generally, Canadians surveyed in the surveys negatively assessed his government, due to disillusionment with his broken promises, environmental contradictions, and personality, which was damaged as the mandate progressed. In passing, the election was therefore between two political forces, Liberal and Conservative, whose party leaders had a majority of unfavorable opinions.
In Quebec, the issue of secularism has disadvantaged New Democrats
The NDP NDP New Democrats, to the left of the Liberals, have also fallen back from 2015. However, you started the interview by mentioning the good quality of Jagmeet Singh's campaign.
Unlike Scheer, its image has improved over the course of the campaign. Voters discovered the leader that NDP members already knew, after selecting him during the internal primaries in the fall of 2017.
It must be taken into account that the party was actually starting from a lower level than its score in the 2015 federal election. That year, in an exceptional way in its history, the NDP was in a position of official opposition to the Conservatives, with 103 MPs against 34 Liberals. It was up to him to create the alternation, but he seriously failed, finding himself relegated to third place on the evening of the vote. The episode was a major trauma that had to be overcome. By succeeding in getting his party back on its feet in English-speaking Canada, Singh did not deserve anything.
However, he suffered from three problems. The first is that it has been subject to increased competition from the Greens, whose push has been partly at the expense of the NDP. The other two problems explain its poor performance in Quebec, where the NDP lost nearly 15 points of votes, and 15 seats (out of a total of 20 lost at the federal level). On the one hand, Singh is not a Quebecer, as was the case with the previous NDP leader, Thomas Mulcair – and as is the case with Justin Trudeau. On the other hand, and more importantly, his bias was taken into account on the issue of Bill 21 in Quebec.
It should be recalled that Bill 21, adopted last June in the province of Quebec, stipulates that public officials in a position of authority must not wear religious symbols. What may seem trivial to French eyes is not at all well perceived in the rest of Canada. How has it been so unfavorable to the New Democrats?
The province is led by François Legault, who heads the Coalition Avenir Québec (CAQ), a nationalist but non-separatist right wing. Legault, among his requests to the competing federal parties, expressed the wish that they would not use the federal government to attack Bill 21 in court.
The Bloc Québécois, which captured the sovereignist electorate and a large fraction of the CAQ electorate, was outright in favor of the law. The Conservative Party was more embarrassed because of its religious supporters in English-speaking Canada but still made a commitment not to attack the text.
Trudeau, on the other hand, increasingly suggested that he would support a challenge to the law. In doing so, he appeared attractive to the Quebec voters most committed to multiculturalism, while putting Jagmeet Singh in an uncomfortable position. This Sikh leader, who wears the turban, was caught in the crossfire. On the one hand, with his appearance, he was able to alienate the electorate most attached to a strict vision of secularism, which had an outlet in the Bloc Québécois.
But at the same time, it was impossible for him to effectively court the supporters of the right to be different. Indeed, the NDP he leads is guided by the principle of respecting Quebec's right to decide its own affairs, so that attacking the law was not an option. It is no coincidence that, in the far left ridings of Montreal, we see remarkable Liberal performances.
How can we assess the progress of the Greens?
It is real but relative. They took three seats, reflecting a successful implementation effort in British Columbia and New Brunswick. It should be noted that, unlike what can be observed in Europe, these are not constituencies in the heart of metropolitan areas. They also gain 3 percentage points from 2015 and peak at nearly 21% in Prince Edward Island, the smallest province in the country, where they had already made a remarkable breakthrough in the provincial election.
However, in terms of federal votes, they are doing no better than in 2008, despite very strong climate mobilizations. They have not been able to obtain public support from leading activists or scientists. Moreover, they do not have a credible strategy for the conquest of power, which is essential in view of the urgency they put forward. Finally, their leadership has hardly been renewed, with Elizabeth May having held this position for more than thirteen years.
We are moving towards a Liberal minority government. Does the NDP have that much interest in supporting Trudeau?
All political forces have an interest in the formation of a government, as their coffers are empty after the campaign. The NDP has an interest in proving its usefulness by obtaining public policies from Trudeau, but without getting involved in government. It suits him, who do not want to over legitimize the New Democrats but needs time to reorganize. Let us not forget that previous minority governments did not complete the term of office, so this time is short, or at least uncertain.
As the Prime Minister's wear and tear will likely continue, the NDP should again have a window of opportunity to try to overcome its status as a "third party". It must still work to embody something other than "Canada's social conscience", and appear as a credible governing party to lead the entire nation. In this regard, what will happen in the Democratic primaries in the United States will be closely observed by the NDP, which will certainly find something to teach.
You work on elections over the long term, by identifying "electoral orders", separated by "break-up" elections and more or less long phases of "realignment" (see our interview on the 2017 elections in France). In this perspective, and in conclusion, what is the status of the 2019 federal election in Canada?
We have seen a return to the electoral order. There was a breakaway election in 2004 when the Canadian right-wing party came together under a single Conservative party. The realignment was consummated in 2006, with Liberals and Conservatives at the close electoral level, a strong Bloc Québécois in the francophone province, and an NDP in third place. 2011, with the NDP overtaking the Liberals, will finally remain a deviant election.